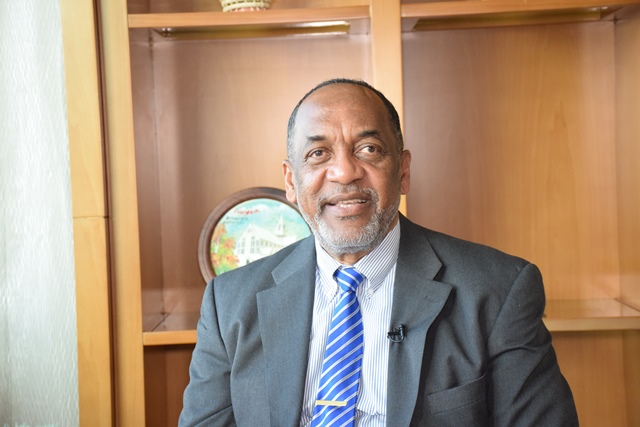 ExxonMobil's refusal to pay two fines to the Environmental Protection Agency (EPA) will see the oil major for the first time being taken to court by the agency which yesterday sounded a warning that it will not be intimidated.
"I want to say that the EPA is rather dumbfounded and disappointed that EEPGL (ExxonMobil's subsidiary) has taken this belligerent position to not comply with the laws of Guyana in paying this fine, especially after so many recurrences of the same incident," Director of the EPA Dr. Vincent Adams told Stabroek News in an interview yesterday, when asked for an update on the matter.
"This is a paltry US$500 or $100,000. They have had six of these in similar incidents in the past twelve months. We had given them the opportunity to correct this after the third incident. They had incidents in each of the March, April and May months but only paid the fine for March. So it boggles me why they are challenging the ones for April and May," he added.
Questioned on what is the next step for the agency, Adams announced that it was in the process of preparing documents to take the company to the local courts to retrieve the sums owed. "We have already started taking legal action against them and are in the process of finishing up the documents," he declared.
"I want to say here too that no company, regardless of how big they are, are above the law of Guyana. Yes they may be a super major, may have a battery of international lawyers as their representatives, but lawyers don't trump the law and justice, and this is global. The law is the law. We are confident that we are in the right and not concerned about high-powered lawyers and legal team," he stressed.
Contacted by the Stabroek News, the company said that it was a minor spill and caused no environmental impact and that it was still looking at this country's laws to determine if they should pay.
"ExxonMobil Guyana as operator of the Stabroek Block was fined jointly with two of our contractors for three hydraulic fluid spills which occurred earlier this year while conducting varying activities offshore. The spills of the non-toxic, biodegradable fluids were as little as 2.5 liters in one instance and were reported to the EPA in a timely manner.  They caused no impact to the environment," the company told the Stabroek News, through its local Public and Government Affairs Advisor, Janelle Persaud.
 "We continue to engage the Environmental Protection Agency on our differing interpretation of the Act and facts surrounding the incidents and will continue to seek an appropriate resolution.   As indicated before, protection of the environment is of utmost importance to ExxonMobil Guyana and our workforce.  We go to great lengths to prevent unplanned releases, and require our contractors to do the same. Where possible, we and our contractors use automatic shut-off equipment and secondary containment systems that limit any spill to minor amounts," she added.
Zero Tolerance
In July of this year, this newspaper first reported that ExxonMobil and two of its subcontractors were fined three times this year for minor spills of hydraulic fluid in the offshore Stabroek Block and the Environmental Protection Agency (EPA) says it wanted to underscore zero tolerance for lax maintenance and procedures in light of the large risk that such operations can pose to the environment and safety.
Sources had told this newspaper that Exxon affiliate Esso Exploration and Production Guyana Limited (EEPGL) had experienced spills of hydraulic fluids due to, among other issues, a worn out and leaky hose and that it was reported to the EPA.
It would take over a week for the EPA to confirm and when its Director did, he said that it was because it was sensitive information and he wanted to ensure that he had "all the facts" before making any statements.
Adams had explained that the fines were the permitted maximum of $100,000 (US$500) for this level of the three infractions, which occurred in March, April and May of this year.  "We fined both the company and the subcontractors for each incident," he said. It would mean the EPA would be paid a total $600,000 (US$2,600).
The paltry sums had raised eyebrows.
When contacted then, ExxonMobil acknowledged that it was fined and said that the spills had no major impact on the environment. It added that it will learn from the events going forward.
The company echoed a similar posture yesterday as it said that it is working to prevent any future accidents. "
"While we manage our business with the goal of preventing any such incidents, we are also prepared should accidents occur to respond quickly and effectively to mitigate any potential impact." We are making every effort to learn from these incidents and apply preventative steps as identified, holding our contractors to the same standard," Persaud stated.
Adams said that companies demonstrate that they are serious about protecting the environment by following the respective laws and that a spill of any amount should be of importance.
"Their focus on the quantity of the spill is irrelevant and does not have basis, since the EPA Act allows for zero discharge of any contaminant and it is disappointing that they are missing the main issue. That issue is simple adherence to their own procedures and manufacturers' instructions for adequate maintenance of equipment for a safe operation," he said.
"It is rather disturbing that they would not accept their mistake as lessons learned and proceed to quickly correct it for making these mistakes in low risk operations speaks to the safety culture which could transfer into higher risk operations that could cause a disaster as the world has realized in past accidents such as the Piper Alpha in the North Sea that resulted in 169 lives lost," he added.
Prepared
And when the company stated that it was working with the EPA to resolve the issue, Adams rejected it saying that it was the ignoring of the correspondence and deadlines given that saw the move to litigation.
"We always try to work with companies because this is a partnership. All the companies know this. You work to develop the country and we are here to assist and guide that it is done in a safe and healthy way. We had written them after they failed to pay and objected to the last two payments, giving them five days to respond or we will act. They never even had the courtesy of replying. We decided to take this very legal action after they didn't respond to our last correspondence, even with a mere acknowledgement that they had received the letter sent," he said holding a dossier of legal papers.
Asked if he believed that his agency's legal team could take on the highly skilled international attorneys that ExxonMobil has at its disposal, Adams gave a confident "Yes! Of course I do".
"We have been preparing for these circumstance and it was why we made it high on the agenda to get a legal team on stream. We have hired two additional lawyers in the past year.  While we did not know that we would see legal resistance like this so soon, their hiring was the main reason to cater for these types of cases," he said.
For the EPA Director who has worked with the US Department of Energy for over 30 years in a management position, the issue is not about company or scale of infraction. He said foreign companies here have to comply when they work in first world countries such as the United States and he will not expect nothing less.
"As you know the EPA has been holding other companies, both local and foreign, accountable for non-conformances and they have willingly paid their fines, which were large as US$10,000. It may not seem a lot but it's what was [the threshold] and they have all used that experience to improve their operations to a more environmentally sound manner. The EPA will not have different standards for different operations," he said.
"I do not compromise on matters of the environment and no one is above the law. If it means taking companies to court to get our due, that it what the EPA will do," he added.